Search results for: "Team"
HUMANS AND ROBOTS SIDE BY SIDE
Responsible Author: Ina von Ber | La Jolla, 11/15/2017, 23:42 Time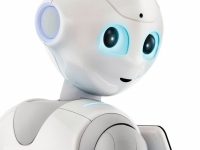 USPA NEWS -
Catastrophic reports that robots in the workplace will drive us into a gloomy existence and dehumanized future, dominate our news. Rapid advances in AI are forcing business leaders to reshape the size and composition of the workforce, understand how it may evolve over time, design an ideal future profile and maximize cost-effective technologies at the same time as nurture employee commitment.
According to a report published by KPMG (2016) between now and 2025, digital technologies will conceivably offset the jobs of 130 million knowledge workers, 47 percent of total US employment. Up to two thirds of the US$9 trillion knowledge worker marketplace may be affected by robotic automation while the Bank of England estimates that 15 million jobs from the United Kingdom economy in the next 20 years.
| | |
| --- | --- |
| | RAHMA-SOPHIA RACHDI |
| | Ruby BIRD |
| | Yasmina BEDDOU |
| | Daren Frankish |
| | Robbie Merritt |
This will be shown to users with no Flash or Javascript.